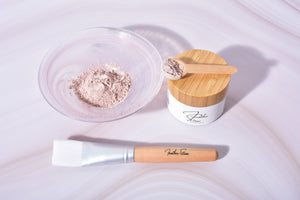 Our Clarifying Clay mask is a combination of carefully selected raw powders and clays to plump, detoxify, refresh and tighten your skin.
Natural | Raw | Non-Toxic | Vegan | Cruelty-Free
Size: 50g – Housed in a recyclable glass jar with bamboo lid

No Synthetic Fragrance or Colours.
Why it's so Special
Kaolin Clay is mild, improves circulation of blood to the skin, eliminates wastes and toxins, detoxifies without drying. Great for dry and damaged skin.

Yellow Clay damaged skin, eases congestion, unclogs pore. Helps supply essential minerals to skin. Tightens, tones, leaving smooth radiant skin.

Organic Hibiscus Powder known as the "Botox Plant", it contains gentle acids which help with age spots, is rich in antioxidants. Helps fight skin damaging free radicals and highly effective in the removal of acne. Promotes aa younger looking complexion.

Zeolite Spa Minerals has the ability to absorb, store and neutralise heavy metals. Removes daily pollution, deep cleansing, detoxifies and unclogs ores and draws out impurities.

French Pink Clay Cleanses, refreshes complexion, improves skin elasticity and cell regeneration. Whitens and brightens skin. Stimulates blood giving a more even tone and younger looking complexion.

Organic Rosehip Powder stimulates collagen production, treats inflammation and soothes redness. Brightens and heals as its high in vitamins A, B, C and E making it a powerful antioxidant. Slows down the signs of aging. Rosehips are also high in beta-carotene, an antioxidant that promotes renewal and growth of skin cells.

Organic Aloe Vera Powder helps to even skin tone and reduce appearance of dark spots. Skin feels more resilient and supple.

Gotu Kola Powder is an herbaceous perennial plant native to the wetlands of Asia. It encourages collagen and resistance to sagging.

Colloidal Oatmeal soothes dry itch skin. Its content of unique antioxidant and anti-inflammatory plant chemicals called avenanthramides boost both skin and overall health.
Ingredients
Kaolin Clay, Yellow Clay, Organic Hibiscus Powder, Zeolite Spa Minerals, French Pink Clay, Organic Rosehip Powder, Organic Aloe Vera Powder, Gotu Kola Powder & Colloidal Oatmeal.