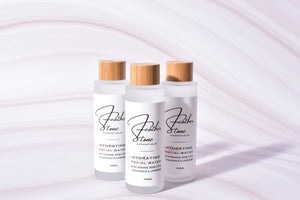 Our Hydrating Water is a combination of beautiful infused floral waters.
Its natural, soothing and refreshing and feels wonderful on your skin.  
This natural fragrant water can be used straight from the bottle as a toner or spritzer, in your clay mask and in your Nano Spray.
Natural | Non-Toxic | Vegan | Cruelty-Free
 Size: 100ml – housed in a recycleable glass bottle with bamboo lid.
Ingredients

Purified Water, Rose Otto, Jasmine Rose Otto, Roman Chamomile and Lavender.
Rose Otto is cool and soothing, good for sensitive, dry and mature skins.

Jasmine is a "light and happy" scent, calming and soothing, useful for all skin types including sensitive, dry and mature skin.

Chamomille is calming and soothing to the skin and makes an excellent evening face and body spritzer during summer.

Lavender helps revitalise face and body. Suits all skin types, particularly helpful for mildly blemished skin.