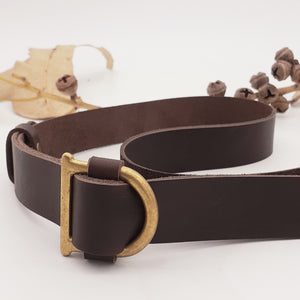 Unique aged brass d-ring buckle belt.
Solid aged brass.
There are no holes, versatile sizing. The belt slides tightly through the d-ring on both sides.
I use naturally finished chocolate toned Australian sourced cow hide.
Use as high waiste dress belt or with jeans.
I have added a moveable keeper on the belt to tuck extra length in when wearing as a dress belt.
Measurement: 3cm wide
Fits through any type of pants keepers.